Monkey Munch - A Holiday Nibble
November 10, 2013
At some point or another many of us have purchased boxes of Chex
cereal to make some tasty nibbles. Whether you follow a recipe for
the sweet treats or salty ones they are always tasty.
I remember years ago my own Mother making a wonderful Chex
concoction which she baked in the oven using Worcestershire sauce.
But for today , I will focus on Monkey Munch a cereal mixture
coated in some really super tasty ingredients.
I like it because it
keeps well in a sealed container and is a great treat
for the little folks
when
they drop by for a visit. Scroll on down to
view the gift giving idea I have included for the Holidays.
Monkey Munch is also known as Puppy Chow-however, I just can't
get into a snack that goes by the name of Puppy chow, I guess
Monkey Munch doesn't sound that much better, but oh well...
So in our
house we call it Monkey Munch.
Ingredients-
8 cups of mixed Chex cereal ( I use rice, corn)
1 1/2 cups of semisweet chocolate chips
3/4 cup smooth peanut butter
1/4 cup butter
2 tsp vanilla
1 1/2 - 2 cups powdered sugar
1-2 gallon storage bag
Wax paper
Optional Additions-
2 cups Holiday m&m's
1/2 cup raisins
1 cup mini pretzels
marshmallows
Directions-
Pour 8 cups of cereal into a large bowl.
In a microwave safe bowl mix chocolate chips, peanut butter and butter and stir.
On high heat microwave for 1-2 minutes, stir. Return to microwave
and heat on high for 30 minutes or until melted and creamy.
Stir in vanilla.
Pour melted mixture over cereal until well coated. Spoon mixture into a 2 gallon storage bag, add powdered sugar and any other additions that sound wonderful to you. Shake until mixture is evenly coated.
Pour onto wax paper to cool. When completely cooled pour into
air-tight container.
Store in refrigerator.
Just imagine how festive this treat would be with some Holiday
m&m's and marshmallows.
Put your Monkey Munch in a Mason
Jar tie a red ribbon and a
decorative Tag around it and
Holiday Nibble becomes a darling gift
for Teachers, neighbors,
really just about anyone!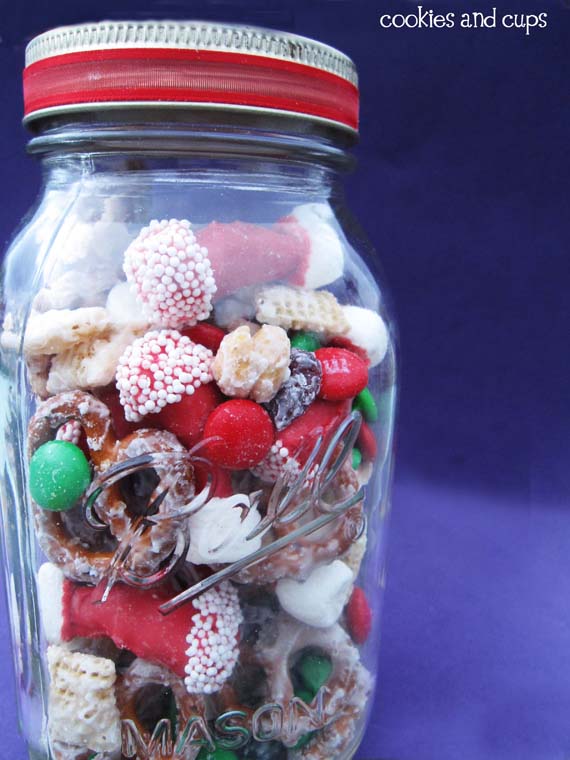 Source
Cookies and cups is a cute blog with some fun ideas for you for
Christmas with a
recipe for another Holiday mix-just click on
Source.
Related posts